About YubiKey: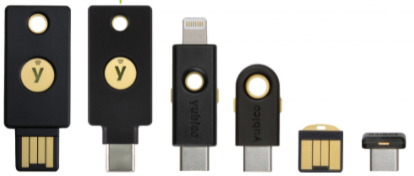 Yubikey is also known as a "Smart Card" or "Hardware Authentication" that authenticates by inserting the key to a USB port on the device that requires authentication. It is support by William James College as a security factor when other security factors are not available to to a specific user. If you are an active WJC account user, is required for MFA but unable to use any other security factor options such as OneLogin SMS or OneLogin Protect, please contact WJC IT Office for alternative options such as obtaining a YubiKey.
End-User Configuration
To register a Yubikey as a user, do the following:
Go to the corner menu and select

Profile > Security Factors.
In the

Security

page, click

Add Factor.
Select

Yubikey

from the popup menu.
Insert the Yubikey into your workstation and press the button. This injects the Yubikey ID into the device registration pane.
Your registered device appears under

Authentication Devices

in the security page, with the first 12 characters of the Yubikey ID. Confirm with your administrator how the OTP policy for users is set, whether its for every single login attempt or only for browsers unknown to the user account.
When using Yubikey:
Upon logging in, the user will be prompted for their Yubikey Security Code. Insert the Yubikey, once it has lit up (to indicate that the YubiKey has loaded correctly), press the button on the YubiKey to inject the security code.
Click

Log In.